Si comme moi, vous avez passé les dernières semaines de con­fine­ment sur les réseaux, il y a un titre que n'avez pas pu rater: « Beef FloMix » de Flo Mil­li est partout.
Des chal­lenges Tik Tok aux fan­cams de chanteuses K Pop inévita­bles sur Twit­ter, le sin­gle n'ar­rête pas sa rota­tion. Pour­tant, on con­naît très peu la rappeuse der­rière le hit. Donc, sans atten­dre, je vais essay­er de vous dress­er un bref por­trait du phénomène Flo Mil­li, qui a de grandes chances d'en­vahir les charts cette année.
Flo Mil­li, de son vrai nom Tamia Carter, est orig­i­naire de Mobile, Alaba­ma (un état très peu représen­té dans le Rap). A seule­ment 20 ans, elle cumule près de 25 mil­lions de vues sur YouTube et 2 mil­lions d'au­di­teurs par mois sur Spo­ti­fy. Elle a déjà un con­trat avec RCA Records, le label der­rière A$ap Rocky, H.E.R ou Khalid. Une réus­site pour cer­tains même si on sait que cer­tains labels n'ont pas tou­jours été clé­ments envers les jeunes artistes. Ce fut le cas par exem­ple pour Megan Thee Stal­lion, qui bien qu'elle explose en ce moment, a fait les frais d'un con­flit avec son label en début d'an­née. Et pour­tant, Flo Mil­li n'a offi­cielle­ment que 11 sin­gles en son nom.
Avec un cat­a­logue aus­si réduit, on est en droit de se deman­der ce qui attire autant chez Milli.
» Dicks up when i step in the party »

(« Les bites se lèvent quand je ren­tre dans la soirée »)
En toute hon­nêteté, je pour­rais répon­dre à ma ques­tion avec cette phase tirée de son titre » In The Par­ty « . Cette punch­line (la pre­mière du morceau) décrit par­faite­ment le per­son­nage de Flo et ce qui la définit : la con­fi­ance en soi.
Flo Mil­li dégage une atti­tude et une aura de femme con­fi­ante et sûre de ses attrib­uts. Elle con­tin­ue dans ce même titre avec des phas­es comme :
« I'm a bad bitch / Don't let 'em tell you that i'm average »

(« Je suis une bad bitch / Ne les laisse pas te dire que je suis moyenne »)
Ou encore :
» « Cause he give me brain like every oth­er week / I smoke all his weed and i told him to leave »

( « Il me donne de la tête toutes les semaines / J'ai fumé sa beuh et je lui ai dit de partir »)
Mil­li n'est pas for­cé­ment fine dans son phrasé, mais tout se joue dans ce côté cru et arro­gant. Elle ren­tre directe­ment dans la lignée de ses com­pères comme Doja Cat ou Megan Thee Stal­lion.
Les com­para­isons lyri­cales sont donc faciles à faire, les trois étant des rappeuses qui, à tra­vers des titres comme « Hot Girl Sum­mer » ou « Tia Tam­era », ont un énorme impact. Car dans un genre musi­cal qui a tou­jours mis en avant des points de vue mas­culins, elles repren­nent le con­trôle de leur corps via des titres aux paroles très axées sur leurs sexualités.
Et même si c'est un sujet très intéres­sant, je ne vais pas plus l'ap­pro­fondir, car en tant qu'homme je me vois mal don­ner mon avis. Mais si vous avez quelques notions d'anglais, je vous laisse deux liens en fin d'ar­ti­cle qui vont plus en détail sur ce sujet.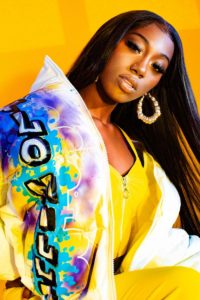 Crédits pho­to : Munachi Oseg­bu.
Heureuse­ment, il y a bien un sujet qui con­cerne Flo Mil­li et les artistes cités précédem­ment que je peux abor­der en bonne con­science : l'im­pact des réseaux soci­aux sur leurs percées.
Instagram, Tik Tok et les ventes
Entre « Say So » de Doja Cat qui tient les charts depuis 17 semaines, et « Sav­age » de Megan Thee Stal­lion qui atteint la 4e place des classe­ment grâce à son remix avec Bey­on­cé, ne pas dire que l'ap­pli­ca­tion Tik Tok a son rôle à jouer serait men­tir. Et Flo Mil­li a béné­fi­cié du même traite­ment. En pre­mier lieu sur Insta­gram, puis sur Tik Tok, sa lancée n'au­rait pas été si ful­gu­rante si les util­isa­teurs de l'ap­pli­ca­tion chi­noise n'avaient pas emprun­té ses titres. Un fait qui hon­nête­ment mérit­erait son pro­pre article.
Flo Mil­li a donc tout de prêt pour elle, un gros label qui la sou­tient, des artistes qui par­lent d'elle dans tous les sens et une per­son­nal­ité qui a l'air d'être demandée. A l'écriture de cet arti­cle, elle est aus­si en course pour faire par­tie des XXL Fresh­man 2020.
Pour finir, je vous pro­pose trois titres de Flo Mil­li qui méri­tent votre attention.
Évidem­ment son titre phare : « Beef FloMix », remix de « Beef » de Ethe­re­al et Play­boi Carti.
Son titre le plus fun, un mélange entre NLE Chop­pa et Doja Cat : « In The Party »
Et mon titre favori, qui a l'air de sor­tir tout droit de la nou­velle vague de Détroit : « Iconic ».
Et comme promis, un lien vers un arti­cle sur l'im­pact du titre « Hot Girl Sum­mer » et une vidéo sur la dichotomie du clip « Twerk » de City Girl et Car­di B.
Suiv­ez Flo Mil­li sur Insta­gram, Twit­ter et YouTube.
Love, Théo.